Seth Baum's Home Page
My interests and activities are broad, but all revolve around the theme of making the world (universe(s)?) a better place. I am an interdisciplinary (or transdisciplinary) researcher working across a wide range of fields in natural and social science, engineering, philosophy, and policy. My primary focus is global catastrophic risk, meaning risk of events that could destroy global human civilization, such as climate change or nuclear war. I also work in astrobiology, which is the study of life in the universe. My research aims to inform major social decisions through careful attention to their impacts on the world and the universe(s), to fundamental ethics principles, and to the people and institutions involved in the decisions.
I am Co-Founder (with Tony Barrett) and Executive Director of the Global Catastrophic Risk Institute. I am also affiliated with the Blue Marble Space Institute of Science, the Institute for Ethics and Emerging Technologies, the Columbia University Center for Research on Environmental Decisions, and the Cambridge University Centre for the Study of Existential Risk. I also write a column for the Bulletin of the Atomic Scientists. I live in New York City.
Contact: seth [at] gcrinstitute.org
Other Info: CV * photos * Twitter * Facebook * LinkedIn * Google Scholar * Academia.edu * ResearchGate * SSRN
29 May 2017: My article Reconciliation between factions focused on near-term and long-term artificial intelligence is forthcoming in AI & Society. In short, instead of debating each other, those who favor near-term and long-term AI can pursue mutually beneficial opportunities. I've also been named a Research Affiliate of the Centre for the Study of Existential Risk at Cambridge University. I'll be in Cambridge late June to give a seminar at CSER and participate in a workshop on systemic risk.
Click here for old updates
Futures Journal Issue: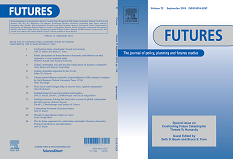 Confronting Future Catastrophic Threats to Humanity, co-edited with Bruce E. Tonn, featuring articles from Melanie Randle, Eckersley, Andy Majot, Roman Yampolskiy, Milan Cirkovic, Miles Brundage, Nick Beckstead, Seth Baum, David Denkenberger, Jacob Haqq-Misra, and Joshua Pearce.

Some Recent Publications:
* Reconciliation between factions focused on near-term and long-term artificial intelligence, in AI & Society (academic)
* The social science of computerized brains (reviewing The Age of Em, in Futures (academic)
* Space colonization and the meaning of life, in Nautilus (online)
* What Trump means for global catastrophic risk, in Bulletin of the Atomic Scientists (online)
* On the promotion of safe and socially beneficial artificial intelligence, in AI & Society (academic)
* A model of pathways to artificial superintelligence catastrophe for risk and decision analysis, with Tony Barrett, in Journal of Experimental & Theoretical Artificial Intelligence (academic)
* The party at the end Of the world, in book Tales from Spaceship Earth: Blue Marble Space Institute of Science Short Story Collection, Volume 1 (fiction)

Upcoming Conferences & Events:
11 July 2017, New York City. Event on AI risk at Tech2025
7-8 September 2017, Gothenburg, Sweden. Workshop "Existential risk to humanity" at Gothenburg Centre for Advanced Studies in Science and Technology
10-14 December 2017, Arlington, VA. Society for Risk Analysis Annual Meeting
Click here for old events

About this site: This site is kindly hosted by Manoj Thomas. The formatting of this site was adapted from W3C's Starting with HTML + CSS page.

Created 15 Jun 2007 * Updated 3 Jul 2017